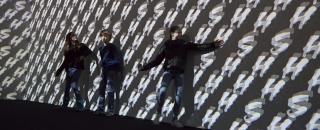 While Marclay's work includes video, sculpture, sound recording and performance, as well as text works, musical scores, collages and prints, this exhibition will include a number of recent audio-visual installations, alongside a select number of his earlier pieces. Central to the exhibition will be the major immersive installation Surround Sounds (2014–15) that is the culmination of his investigation of onomatopoeia, as well as two performative scores, the slide show Zoom Zoom (2007–15) and the 'graphic score' Manga Scroll (2010); the interactive installation Chalkboard (2010) that invites the audience to graffiti an architecturally-scaled and previously empty score, which is then interpreted by musicians; and the earlier Video Quartet (2002), a symphony composed from movie clips.

The exhibition will likewise address Marclay's engagement with composition through his recourse to popular culture and mass media, together with his exploration of both traditional and digital technologies, and their material qualities. Marclay has often deliberately utilised forms of media that we now consider traditional or analogue, in combination with the most recently developed digital means and tools. The exhibition will focus therefore on the manner in which he composes through his interdisciplinary use of appropriation, montage/remixing and improvisation, practices that themselves traverse the boundaries between the experimental and the popular.

On the one hand, Marclay's work can be situated in relation to the avant-garde and experimental via the legacies of Dada, Duchamp, Tinguely, John Cage, Fluxus and Happenings, and, on the other, to popular culture such as comics, music, film and underground subcultures. In addition, Marclay has engaged with the work of the early avant-garde such as Edvard Munch, later figures such as Laurie Anderson and the composer John Oswald, as well as the band Sonic Youth and the Kronos Quartet. Early in his career he became involved in experimental performance through his influential role in the development of turntablism (the use of record turntables to make compositions, especially using mixes and manipulations of sound) and his relationship to plunderphonics (the compositional potential of sound collage and/or sampling), becoming a significant practitioner of both, as well as through his band The Bachelors, Even.

That the exhibition will originate at MACBA in Barcelona is also important as the city has a strong connection to the world of experimental music. Marclay himself knows the city through his own experiences of its music scene, and this music landscape will also be signalled in the exhibition though a performative programme.