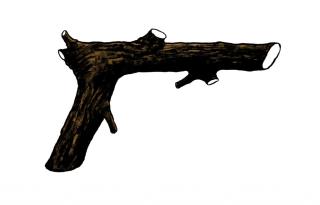 Text in English - Texto en español
Title: Leña- Artist: Pepe Medina - Technique: Ink and watercolor on paper - Gallery: Columpio
"Leña" is name Pepe Medina has chosen for his first exhibition individual in the gallery.
Pepe Medina not to think of simple combustible woods pieces.Drawings have been made in ink and watercolor on paper, in  white, black and earth colors are the protagonists.
Pepe Medina (Palencia, 1969), has a degree in Fine Arts from the Universidad Complutense. His work can be found in books and collaborations in various national newspapers.
In 2008 their work could be seen in cities like Madrid and exhibition Miami
Título: Leña
Artista: Pepe Medina
Técnica: Tinta y acuarela sobre papel
Galería: Columpio
Leña
es el nombre que ha elegido Pepe Medina para su primera exposición
individual en la galería Columpio, espacio con el que comenzó a
colaborar desde la primera colectiva en junio de 2007.


Al ver la Leña de Pepe Medina no pensamos en simples trozos de madera
combustible, sus ramas y sus troncos han sido podados con formas que
tienen la intención de contarnos algo, hablan y disparan cambiando su
significado.


Los dibujos han sido realizados en tinta y acuarela sobre papel, en los que
el blanco, el negro y los colores tierra son los protagonistas.

 
Pepe Medina (Palencia, 1969), es licenciado en Bellas Artes por la
Universidad Complutense. Su obra puede encontrarse en libros
autoeditados y en diferentes colaboraciones en prensa nacional. Durante
2008 su trabajo pudo verse en ciudades como Madrid y Miami.



La exposición se inaugura el 24 de abril y podrá visitarse hasta el 11 de
Junio