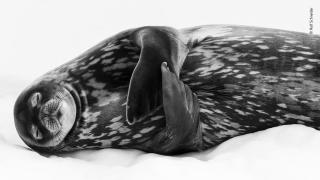 Stunning images will be unveiled as Wildlife Photographer of the Year arrives at Birmingham Museum & Art Gallery.

The world-renowned exhibition, on loan from the Natural History Museum in London, will feature exceptional images which capture fascinating animal behaviour, spectacular species and the breath-taking diversity of the natural world. Whilst inspiring curiosity and wonder, the images also remind us of the fragility of our planet and our responsibility to protect it.

Wildlife Photographer of the Year is the most prestigious photography event of its kind, providing a global platform that showcases the natural world's most astonishing and challenging sights for over 50 years. Launching in 1965 and attracting 361 entries, today the competition receives over 48,000 entries from 100 countries, highlighting its enduring appeal. 100 award-winning images can be seen on display in this fascinating and eye-opening exhibition in Birmingham.

On display in the spectacular Gas Hall at Birmingham Museum & Art Gallery, the exhibition will also be accompanied by a display of pieces from Birmingham's collection which explore our enduring fascination with animals.

There will also be an exciting programme of events and activities for both families and adults, making it a truly memorable experience with lots of opportunity to get involved, learn more and be inspired by the natural world.

This will be a ticketed exhibition. Admission charges apply (prices to be confirmed). More information will be announced soon.

Wildlife Photographer of the Year is developed and produced by the Natural History Museum,

 London.

Image credit: Sleeping like a Weddell by Ralf Schneider. © Ralf Schneider.