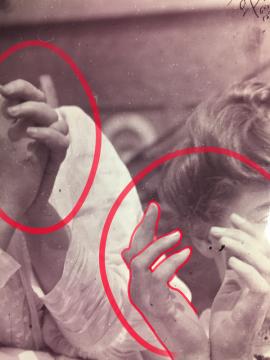 In 2018, artist Leanne O'Connor spent a month researching and making artworks at Birmingham Museum and Art Gallery as part of the Whitworth Wallis residency programme. Her work responds to the stained-glass and metalwork collection held within the Industrial Hall at Birmingham Museum and Art Gallery, the Museum Collections Centre and Community History & Archives Service in Smethwick. Using these collections as a departure point to produce new works and learn historical processes, Leanne is particularly interested in 'The Story of Dante and Beatrice' by Florence Camm and the Camm's endurance in a post-industrial Smethwick.



The central work is titled Hands of a Sisterhood, it memorialises each of Florence's five sisters, through steel and glass - anchored by the map of Smethwick, where they lived. Their revival and placement within the industrial hall acts as a survival tactic for Camm's too often overlooked works and histories. They point and direct to the final resting place of The Story of Dante and Beatrice. Performing the archive, cultural memory and memorialising are central themes to this work, with the names of Florence's sisters inscribed on each piece in-situ – mirroring Florence's own hallmark.

The artworks will be displayed in the Industrial Gallery and the Birmingham School of Art gallery.

Free entry.