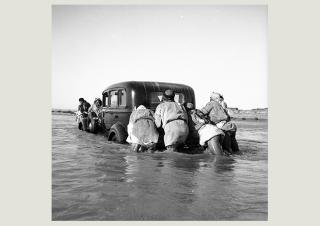 In a dialogue between

Schwarzenbach's texts and her photographs, a view of the world opens up which

makes the social and political upheavals and conflicts of the 1930s visible

from a new perspective. On her long journeys

through Europe, Asia, Africa and America she sought not only to encounter the

alien as a way of escaping the haute-bourgeois conservative milieu of her

origins. She also hoped to extract a meaning from her conflict-ridden times.

Her travels represent an attempt to take part in the resistance against the

threatening catastrophe of the Second World War.