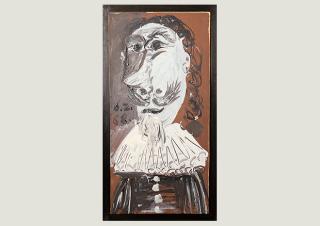 The rare periods when the artist stopped painting were followed by

periods that were extremely fruitful in artistic terms. In 1935, at the height of the Spanish Civil War, he hardly touched his brushes for two years.

He took them back in 1937 to deliver Guernica. In the mid-1960s, health problems took him away from painting. When he came out of convalescence in 1967, the figure of the musketeer appeared in his work and never left. Fed by many references and the fact that he had rediscovered

the old masters - El Greco, Velasquez, Delacroix, Manet, and more

particularly Rembrandt - he started using the figure of the musketeer,

a real alter-ego of the painter. This character was reminiscent of the

world of childhood and chivalry. He explored it against the dominant trends in the artistic world of that time. Picasso thus showed that

he was, as his biographer John Richardson wrote, «free to do whatever he wanted, in whatever way he wanted, regardless of correctness, political, social or artistic».