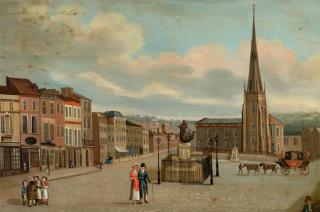 This event will take place in BOM

(Birmingham Open Media), 1 Dudley Street, Birmingham, B5 4E. It isn't necessary to stay 24hours, but that option is there for hardcore hackers!

This BMAGRemixed

event has a Birmingham theme. The hack objective is to use the image archive to build ideas and projects specifically for and from Birmingham. We will also have a selection of other resources to use in the event.

What is a Hack?

Hacking is creative problem solving. Participants work together in teams to create prototype projects to solve a specific challenge. Participants collaborate and share skills, learn new things. All skill levels are very welcome.

Who can get involved?

Our aim is to make the event accessible to everyone. As such, whether you are a citizen, storyteller, artist, techie, data enthusiast, history buff, maker, curator, whoever you are - this is your chance to get involved.

Itinerary

Saturday



Start 10am Intro, ideas and team formation

Hacking starts 12pm

Lunch 1:30pm Hack your own sandwich (food provided)

End of day round up 6pm

Dinner 7pm Pizza

Game for those staying

Late night snack 11pm

Sunday



Breakfast pastries 9 am

Entries submitted by 12pm

Lunch 1:30pm

Presentations 2:30pm

Judging 3:15 pm

Close 4pm

Please follow the Book Tickets

link to register.