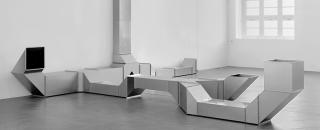 Using construction materials, serial repetition and industrial manufacturing, Posenenske developed a form of mass-produced Minimalism that addressed the social and economic concerns of her time, circumventing the art market and rejecting established formal and cultural hierarchies. Her modular sculptures enabled the 'consumer' – the curator, viewer or owner – to decide and change the configuration of the installation according to their preference, thus surrendering some of the artist's authorship and opening up the work to others. In a statement published in Art International in 1968, Posenenske asserts: 'The things I make are variable, as simple as possible, reproducible. They are components of a space, since they are like building elements, they can always be rearranged into new combinations or positions, thus they alter the space. I leave this alteration to the consumer who thereby again and anew participates in the creation.'

This openness was also reflected in the fact that Posenenske intended her works to be replicated and did not limit them to a finite edition. Moreover, she offered them at their material cost, thus undermining the economic imperative of the art market. In her view, 'art is a commodity of transient contemporary significance... It is difficult for me to come to terms with the fact that art can contribute nothing to solving urgent social problems.' In 1968, owing to her disillusionment with the limits of art, Posenenske abandoned her artistic work to devote herself to sociology, specialising in the study of labour and industrial production.

While Posenenske exhibited widely during the years that she was active as an artist – alongside peers such as Hanne Darboven, Donald Judd and Sol LeWitt –, her contributions to the discourse of Minimal and Conceptual art remain largely overlooked. This retrospective is the most comprehensive exploration of Posenenske's work since her death and recovers the artist's legacy as a critical and prescient voice within contemporary art.

The exhibition will be the first major presentation dedicated to the German artist to be held in Spain. It is on view at Dia:Beacon (USA) from 8 March to 9 September 2019, before embarking on a European tour to MACBA, then Kunstsammlung Nordrhein-Westfalen Düsseldorf (4 April – 2 August 2020) and Mudam Luxembourg – Musée d'Art Moderne Grand-Duc Jean (2 October 2020 – 10 January 2021).