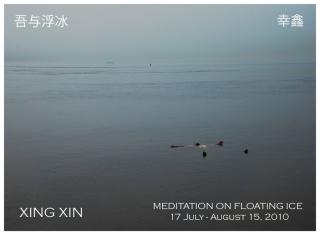 END CELEBRATION of the NEWEST PROJECT by XING XIN
For his first major project after the success of his BLACK BOX project at the 53rd VENICE BIENNALE in 2009, Xing Xin's latest work involved driving and then hiking to the source of the Yangtze river, very high up on a Tibetan Glacier, removing a piece of the ice and driving it in a very wishfully refrigerated truck tall the way to the mouth of the river at the East China Sea... whereupon he attempted to jump off the DONG HAI BRIDGE, the world's longest, but was twice derailed in his efforts by the weather and then by the guards.
He finally did achieve a quieter conclusion to a very philosophical and soulful journey, an adventure which explored the importance of cooperation and trust, examining the tragedy of environmental degradation and devastation from so called acts of God...and our own helplessness before the awesome powers of mother nature, along with fate, destiny, hope and luck.
Come view the video of the project, documentary photographs, and installation by the artist, in attendance...
ART LABOR SPACE
36 YongJia Lu #2, (Near Maoming Nan Lu)
OUR NEXT SHOW 1 - 25 AUGUST 2010 WILL BE HELD IN OUR NEW LOCATION,
LOCATED FURTHER WEST AT ART LABOR GALLERY, 570 YONGJIA LU, BLDG 4
ART LABOR SPACE
36 YongJia Lu #2, (Near Maoming Nan Lu)
Shanghai, Shanghai 200020 CN
China
http://