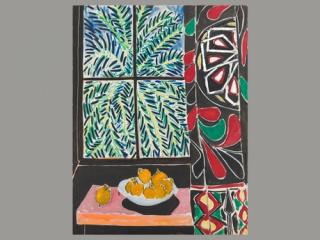 Henri Matisse">Henri Matisse—who revolutionized 20th-century art—believed that a treasured group of objects was instrumental to his studio practice. "Matisse in the Studio" is the first major international exhibition to examine the importance of Matisse's studio collection, offering unprecedented insight into the great artist's creativity.

Five thematic sections—"The Object Is an Actor, "The Nude," "The Face," "Studio as Theatre," and "Late Work"—feature a range of works in a variety of media from different points in the artist's career. Approximately 30 paintings, 24 drawings, 11 bronzes, nine cut-outs, and five prints by Matisse are showcased alongside 36 works from his studio collection—many on loan from private collections and publicly exhibited for the first time—including decorative pots, pitchers, and vases, as well as textiles, sculpture, and masks from the non-Western traditions that Matisse greatly admired. Photographs of works in progress and Matisse's various studios in Collioure, Issy-les-Moulineaux, Nice, and Vence are also displayed, vividly recreating the artist's working spaces. An illustrated catalogue accompanies the exhibition with contributions by renowned Matisse scholars.

Above: Henri Matisse">Henri Matisse, Interior with Egyptian Curtain, 1948. Oil on canvas. The Phillips Collection, Acquired 1950. © 2016 Succession H. Matisse / Artists Rights Society (ARS), New York.