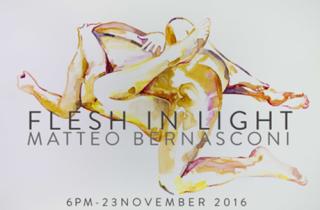 Exhibition runs from 22nd November to 11th December 2016
Opening Party: 6-8pm Wednesday 23rd November.

Matteo Bernasconi is showcasing a large collection of new works in his first major exhibition - Flesh In Light. The exhibition looks at the human condition, exploring the dualism of human nature.

The collection of artworks have been inspired by Matteo's curiosity in the unpredictability, vulnerability and strength of human nature. Characteristic of his paintings is movement, and he has been always obsessed with the idea of representing it in his paintings.
Matteo's art asserts that the human being is not completely free. He believes that humans are at the mercy of their reactionary condition: and that, as animals, human reaction is always influenced by environmental circumstance.

"Watercolour can speak in a multitude of ways,  the unpredictable behaviour of the water and the transparent layers make it the most suitable medium to convey my expressions and needs in order to best represent my images and constant research into movement and light." 

With a background in architecture in Italy, Matteo has set up a successful art business  in Australia and now works with an array of mediums including oil, print and acrylic. The exhibition with show approximately 30 pieces, a mixture of figures and portraits, using mainly watercolour and acrylic on different supports like wood canvases and cotton.
Don't miss the chance to see this long awaited first mayor exhibition by talented artist, Matteo Bernasconi.

 http://www.matteoberna.com/