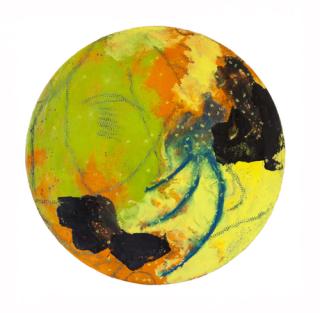 Encáustica Contemporánea will present the latest encaustic work of Randal Arvilla from 25 October – 6 November.

Opening Reception: 6-8pm Wednesday 26 October
Artist Talk: 2pm Saturday 29 October 

Like a palimpsest layered with levels of inscription, effacing and building on the layers beneath, Arvilla's encaustic paintings and sculptures map a history of layered mark-making in wax. Bold swathes of colour combine with carbon from the printed page and impressed typographic letters and numbers to form landscape spaces and encapsulate memories of the past.

Arvilla considers the history of this ancient painting technique first used to render likenesses on Roman-Egyptian portrait sarcophagi, through a contemporary lens of colour and abstraction, whilst exploring nuanced personal themes of cultural identity, memory, loss and place.
Randal Arvilla is a Costa Rican Australian painter and sculptor. Arvilla studied Painting at the National Art School of Australia and holds a Bachelor of Fine Arts from the University of San Francisco. Arvilla was awarded the St. Vincent's and National Art School's Painting Exhibition Award (2011) and was Runner-Up in the John Olsen Figure Drawing Prize (National Art School, 2011). Arvilla has been an exhibiting finalist in the Fleurieu Food and Wine Art Prize (2016), the Chippendale New World Art Prize (2016), Fisher's Ghost Award (2015), St. George Art Award (2014, 2012), and Waverley Art Prize (2012).

http://www.randalarvilla.com
http://www.facebook.com/randalarvillartist


Text by writer and curator: Susannah E Smith
Artwork image: Randal ARVILLA, Metztli" or "Moon", 2016, encaustic and oil painting on board, 60×60 cms.
Photo by: Monica Renaud