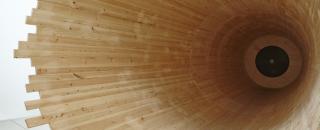 EXPERIENCE

'…make something which experiences, reacts to its environment, changes, is nonstable…'

Hans Haacke

Since the 1960s, experimenting with the natural elements and processes, sensory experimentation and the will to render visible physical changes and phenomena that normally go unnoticed by the human eye have often been the focus of attention in art, as can be seen in this section.

The General System Theory of biologist Ludwig von Bertalanffy, which defined living beings as open systems, influenced Hans Haacke and formed the basis for his Condensation Cube (1965). The work, included in the exhibition, physically engages the viewers who may, with their presence alone, alter the temperature differential between the inside and outside of the cube, thus modifying the flow pattern of the drops of water on its walls.

In Entrevendo (1970–94), a large multisensorial installation by Cildo Meireles, viewers are offered a synesthetic experience by being invited to enter a horizontal funnel-shaped structure in which hot air circulates, with two ice-cubes in their mouths.

Other works accompanying us in this experiential itinerary are Àngels Ribé's interventions, Muntadas' early works and the Conceptual contributions of Piero Manzoni and Art & Language, among others.TIME

'I do not work with figures, but with ideas and forms. Together with the participants I transform a space and time. […] Each performance is unique.'

Joan Jonas

Sensory experimentation implies working with the body in a form of art based on action and movement, with time as a decisive factor.

Performance became a testing ground for artists such as Jordi Benito, Fina Miralles, Francesc Abad, Esther Ferrer and Àngels Ribé, who documented their actions photographically. Joan Jonas was one of the first to record her performances on film, followed by Vito Acconci, Dan Graham and Gordon Matta-Clark. A few years later, Babette Mangolte incorporated movement as prime artistic material, while the installations of David Lamelas and Hans-Peter Feldmann and the explorations of Francis Alÿs, Frederic Amat and Martí Anson used time and duration as a field of research.CONFLICT

'How do we produce an art that elicits dialogue rather than uncritical, pseudo-political affirmation?'

Allan Sekula

This last section features some of the realities that are common to the contemporary world, such as conflict, borders and migrations. In the tower of the Meier Building, the installation If You See Something… (2005) by Krzysztof Wodiczko presents a global picture of conflict through damning accounts of abuses of power. While Carlos Garaicoa, Marcel Broodthaers, Étienne Chambaud and Pere Noguera investigate the idea of walls and maps, Pedro G. Romero, León Ferrari and Alice Creischer recover some forms of violence in recent history. Harun Farocki, in his filmic trilogy, highlights the irruption of military technology into civilian life. Mircea Cantor evokes the situation of the displaced, while Allan Sekula portrays the human community that occupied the streets of Seattle in 1999 to protest against the capitalist system. In all of them, there is an urgent need to rethink the idea of conflict.

Contemporary forms of labour and workers exploitation are the focus of attention for artists such as Étienne Chambaud, Eulàlia Grau, Joaquim Jordà, Octavi Comeron, Adrian Melis and the collectives Grup de Treball and Agustín Parejo School. Social violence forms the background of Aníbal López's work, while the effects in the public space of the power relations that arose in the 1990s are the subject of Andreas Siekmann's installation.MACBA Collection 31 reveals the fissures in a global world that perpetuates forms of labour associated with inequality and geopolitical conflict. A world challenged by an artistic practice that no longer understands the position of art if not as a critical agent.