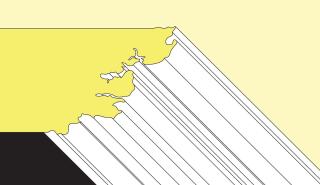 The history of architecture is full of 'origin myths': stories of how and where architecture began. These range from the eighteenth-century idea of the 'primitive hut', to nineteenth-century interests in animal skins and fabrics, and modernist conceptions of space. What makes these myths important is the way they describe the point at which architecture becomes culture, when the act of building becomes imbued with cultural meanings that can be read and interpreted.



Origins takes these myths as the starting-point for a series of interventions around Burlington House, intended to pose a new, provocative allegory of the foundations of contemporary architecture. Several of the interventions occupy prominent spaces that are currently empty or in transition owing to the ongoing RA250 project, thus forging an intriguing dialogue with the building's own history. Other interventions can be found in lesser known or often overlooked parts of the building, inviting viewers to look again at how we understand and experience the spaces we occupy.



Realised through a number of techniques and materials, the interventions are grouped according to particular themes, which together pose a new set of 'origin myths' of architecture. Embracing the creative possibilities of erroneous theories, misunderstood histories, personal mythologies and speculative wild goose chases, Origins offers a powerful new perspective on the myths, conventions and histories that guide how architecture is both created and experienced.