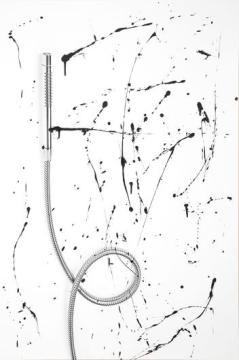 Caza: Rochele Gomez, Margaret Lee, Alejandra Seeber is part of The Neighbors, a series of three small-scale, successive exhibitions of contemporary art organized by guest curator Sofía Hernández Chong Cuy for The Bronx Museum of the Arts.

 

What would it mean to tame art? And, what or whom would this taming of art serve? The group exhibition Caza—a word that in Spanish means "searching" or "hunting," and is a homophone of "casa" (home)—is an attempt to respond to such questions, or an occasion to at least consider them. To explore some possibilities, Caza looks at the place of art within a domestic space and, specifically, in familiar environments outside of what is conventionally deemed as art. The decorative is both complicity and implicitly cited in the selected artworks in this exhibition, and conveniently so, for taming involves a process of domestication. They picture a worldly knowing—an academicism, to say the least—and embody a taste—in other words, a class—as forms of content to work with, not to solely depict. The exhibition includes artworks by Rochele Gomez, Margaret Lee and Alejandra Seeber.

 

Gomez's work centers on making art in and around her childhood home, a space unlike the ascetic environments housing contemporary art. Lee's installations of artistic arrangements, as well as her painted photographs of sinks and drains, stage a process of styled refinement. Seeber's paintings portray fragments and abstractions of interior spaces inclusive of art displays. While emptied of any clear ethnic signs, their works are succinctly interposed with cultural expressions, relying on artistic emblems and gestures to present a sense of reserve and feeling of bewilderment. Their works act as visual metonyms for art, playfully accentuating absurdities over the presumptuousness of artistic conventions. That portrayals of modern art and design appear in several artworks here hints at the notion of received ideas being stripped from their function.

 

The artworks in the exhibition awkwardly reference the ghostly presence of modernist schooling—out of place and yet welcomed, modernism comes to haunt. In this regard, art's taming could be less a matter of advancing prevailing ideas than of unlearning them, and perhaps this entails intensification over simplification. Or perhaps art's taming could be a process of embracing difference to acknowledge singularities. If these kinds of taming of art could ensue and be valuable, beyond pleasing the eye or elucidating a status quo, would it help create bonds between dissimilar communities? In their own way, the artists of Caza tame art for various purposes, from reconciling with cultural backgrounds, to assessing the reduction of function to style, to resisting classification. Regardless, it is to communicate a felt structure of feeling through the language of visual art.

 THE NEIGHBORS SERIES

 Caza is part of The Neighbors, a series of consecutive, small-scale exhibitions of contemporary art guest-curated by Sofía Hernández Chong Cuy for The Bronx Museum of the Arts, featuring work by Firelei Baez, Andrea Bowers, Rochele Gomez, Ignacio Gonzalez Lang, Margaret Lee, Ivan Morazan and Alejandra Seeber. For each exhibition, Gerardo Madera designs a gallery leaflet out of his Common Satisfactory Standard Print Shop. Central to The Neighbors is an investigation of the artistic concerns and visual languages dealing with identity, an issue tackled less as a personal exploration of ethnicity alone than as an examination of the ways in which social classes are constructed and their divisions purportedly manifested. As the title may suggest, the series explores, on the one hand, shared yet delimited territories; on the other hand, the fact that the participating artists in the exhibition are in close proximity to—closely related, perhaps, although not exactly inhabiting or native of—the communities that they are working with or representing in their work.

 

The work featured in The Neighbors is characterized by a re-working of an existing grammar in the field of visual arts. This formally entails structural ruptures, say, within the picture plane of a work. It likewise entails a conceptual porosity, for example, with a work's explicit multivalent form in relation to an idea. These aesthetic ruptures and porosity happen even when the artwork's creation entails acknowledging something that could be called a willing mediatization—an awareness of dominant histories, their institutions and agents, preferences and tastes. At times, some of the topics confronted by the participating artists of The Neighbors address a sense of belonging; at other times, a feeling of up-rootedness; in some instances, a state of resistance. In any case, their work sensibly evokes these concerns as they are played-out colloquially, in singular ways through visual art, rather than how these issues are commonly portrayed in media outlets. 

 ABOUT THE ARTISTS

 Rochele Gomez (b. 1980, Los Angeles) lives and works in Los Angeles, CA. In 2014, she received her MFA from the University of California, Irvine, and in 2006 a BFA from California State University, Long Beach. Last year, she had a solo exhibition at LAXART Fireplace and Its Mirror curated by Daniel Joseph Martinez. Other recent exhibitions include: Out at the Elbows at Metro PCS in Los Angeles, CA (2014); Ideal Territory at Cirrus Gallery in Los Angeles, CA (2014); and Saucy Leechcraft at JB Jurve in Los Angeles, CA (2012).  She is a recipient of the American Austrian Foundation/ Seebacher Prize (2014), which allowed her to travel to Europe and study at the Salzburg International Summer Academy of Fine Arts in Austria.  Artist's website: rochelegomez.blogspot.comMargaret Lee (b. 1980, Bronx) lives and works in New York City. This year, she participates with a solo exhibition as part of the Concentration series organized by the Dallas Museum of Art at Duddell's in Hong Kong. In 2014, the artist's solo exhibition closer to wrong than right/ closer to right than wrong was presented at Jack Hanley Gallery in New York. Recently, Lee participated in NO MAN'S LAND: Women Artists from the Rubell Family Collection (2105) at The Rubell Family Collection, Miami, All Watched Over (2015) curated by Tina Kukielski at James Cohan Gallery, New York, and New Pictures of Common Objects (2012) curated by Christopher Lew at MoMA PS1, New York. The artist participated in the 2014 Hammer Museum biennial, Made in L.A. and in the 2013 Biennale de Lyon. In 2009, Lee founded the artist-run space 179 Canal and is currently a partner in the gallery 47 Canal. Artist's website: www.margaret-lee.comAlejandra Seeber (b. 1969, Buenos Aires) lives in New York City since 1999. She studied at Prilidiano Pueyrreón School of Fine Arts in Argentina, and participated in the Beca Kuitca Studio Program in Buenos Aires and Skowhegan School of Painting and Sculpture in Maine. In 2010, she had solo exhibition at Fundación Proa in Buenos Aires, and has had solo exhibitions at, among other galleries, Sperone Westwater in New York, Hausler Contemporary in Munich and Zurich, and, most recently, at Barro in Buenos Aires. Her work was featured in the 7th Bienal do Merocsul (2009) in Porto Alegre and in S-files (2003) at El Museo del Barrio in New York. It has been part of numerous group exhibitions locally internationally, at venues like the Kunst Museum of Saint Gallen in Switzerland, the Museum of Modern Art of Buenos Aires, as well as the Museum of Latin American Art of Buenos Aires (MALBA). Artist's website: www.alejandraseeber.com

 Gerardo Madera (b. 1990, New York) is a graphic designer based in Brooklyn, where he runs his studio, the Common Satisfactory Standard Print Shop. He has a BFA in Communication Design from Pratt Institute and is a production assistant at Triple Canopy. www.commonsatisfactorystandard.com

 ABOUT THE CURATORSofía Hernández Chong Cuy is a contemporary art curator living in New York City. Since 2011, she has been the curator of contemporary art for Colección Patricia Phelps de Cisneros. Previously, she was the director of Museo Tamayo in Mexico City, held curatorial positions in New York at Art in General and Americas Society, and guest-curated exhibitions for Kadist Art Foundation in Paris, MALBA in Buenos Aires, and the Center for Contemporary Art in Vilnius, among other places. In 2013, Sofía was artistic director and chief curator of the 9th Bienal do Mercosul in Porto Alegre; before that, she was an agent of dOCUMENTA(13) in Kassel. thisandthat.site

 Caza: Rochele Gomez, Margaret Lee, Alejandra Seeber is the first iteration of The Neighbors, an exhibition series guest-curated by Sofía Hernández Chong Cuy for The Bronx Museum of the Arts. The exhibition is made possible, in part, by the generous support of the Director's Circle, a leading Bronx Museum support group.