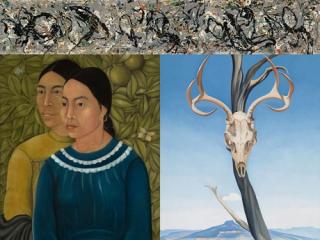 Experience five newly reinstalled galleries featuring 28 Modern artists

A five-gallery exhibition on the third floor of the MFA's Art of the Americas Wing explores what it meant to be in the vanguard of Modern art in the 20th century. From Frida Kahlo to Jackson Pollock, original voices of Modern artists working in the Americas were influenced by a variety of contemporaries, teachers, rivals, and friends. Incorporating diverse sources of inspiration, 20th-century painters took their artistic practice in dramatic new directions. Each gallery represents a moment—from Mexico City to New York to Boston—illustrating the evolution of Modern art in North America. Featuring new acquisitions, rarely seen loans, and masterpieces from the MFA's collection, the installations provide fresh perspectives on Modern artists working in the 20th century.



Kahlo and Her Circle, Gallery 335



"Kahlo and Her Circle" in the Robert and Jane Burke Gallery, displays the work of Frida Kahlo in the context of works by her family and friends in Mexico City. Anchored by the MFA's recently acquired painting Dos Mujeres by Kahlo, the installation includes photographs by Tina Modotti, Edward Weston, and Imogen Cunningham—including a portrait of Kahlo—works in various media by Diego Rivera, and recently acquired archival material related to the artists, including a wedding portrait of Kahlo and Rivera by Victor Reyes.



Pollock/Picasso, Gallery 328



"Pollock/Picasso," on view in the Saundra B. and William H. Lane Galleries, contrasts two titans of Modern art. Side-by-side pairings of paintings, works on paper, and films explore Pollock's engagement with Picasso, and how the younger artist moved away from representation towards abstraction during the 1940s and '50s.



The Lane Collection: O'Keeffe, Sheeler, Dove, Gallery 332



The central gallery of "Making Modern" represents five American artists who showed their work in Alfred Stieglitz's and Edith Halpert's New York City galleries—Georgia O'Keeffe, Charles Sheeler, Arthur Dove, Marsden Hartley, and Stuart Davis. Featuring paintings from the MFA's William and Saundra Lane Collection, works by these artists, many of whom were close friends and inspiration to each other, are grouped separately, as a means of exploring their own artistic voice and contributions to Modern art.



Beckmann in America, Gallery 334



"Beckmann in America" highlights the influence of German-born artists Max Beckmann and Karl Zerbe. After fleeing Europe, both immigrated to the US and had a lasting impact on artists working in Boston. The gallery explores the work of Beckmann and Zerbe, as well as students Hyman Bloom and Jack Levine, who established Boston Expressionism as a major style of painting at mid century. Together with Zerbe and their students, including David Aaronson, who went on to establish the Fine Art Department at Boston University, the Boston Expressionists developed their own personal responses to the bold subjects and broad technique of the German Expressionists.



Hofmann and the Next Generation, Gallery 327



"Hofmann and the Next Generation" in the Melvin Blake and Frank Purnell Gallery explores the influence of their teachers on mid-century abstract artists. Hans Hofmann (American, born in Germany), a prominent Abstract Expressionist and dedicated teacher, welcomed hundreds of students to his studios in New York and Provincetown, training them in his distinctive technique and inspiring both peers and a new generation of artists to develop their own voice. From Franz Kline's monumental, gestural work to Robert Motherwell's more philosophical approach, Hofmann's deep influence on abstract art and technique can be seen in paintings by Helen Frankenthaler, Kline, and Motherwell, and sculptures by David Smith and Peter Voulkos.





Above, clockwise from top:Jackson Pollock, Number 10, 1949, 1949. Alkyd (synthetic paint) and oil on canvas mounted on panel. Tompkins Collection—Arthur Gordon Tompkins Fund and Sophie M. Friedman Fund. © 2011 Pollock-Krasner Foundation / Artists Rights Society (ARS), New York.

Georgia O'Keeffe, Deer's Skull with Pedernal, 1936. Oil on canvas. Gift of the William H. Lane Foundation. © Georgia O'Keeffe Museum / Artist Rights Society (ARS), New York.

Frida Kahlo, Dos Mujeres (Salvadora y Herminia), 1928. Oil on canvas. Charles H. Bayley Picture and Paintings Fund, William Francis Warden Fund, Sophie M. Friedman Fund, Ernest Wadsworth Longfellow Fund, Tompkins Collection—Arthur Gordon Tompkins Fund, Gift of Jessie H. Wilkinson—Jessie H. Wilkinson Fund, and Robert M. Rosenberg Fund.