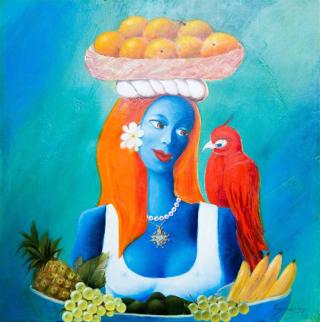 Figuratively Speaking: Bringing figure and shape into focus
The universal appeal of basic shapes and figures, expressed in images that range from portraits to landscapes to still lifes, is brought into the spotlight in the exhibition Figuratively Speaking. The artists in this show employ a diverse range of approaches and media, using photography and the tools of digital art, as well as oils and acrylics, to illustrate the many forms and meanings that the figure can take. Whether those figures represent people, animals, objects or beings that solely exist in the artist's imagination, they all bring a strong energy to the paintings or photographs built around them. In abstract and representational settings, they confirm the power that the relationship between figure and background holds. From bright, sharp images in which the subject stands out clearly to moody, densely textured works that put the figure at a tantalizingly remote distance, these artists offer a surprising variety of ways to bring that relationship alive. They all demonstrate how one of art's basic concepts is always open to new, fresh interpretations.
Figuratively Speaking opens July 8th, 2016 and run through July 28th. There will be a reception open to the public on Thursday July 14th, from 6pm to 8pm. Admission is free.
Exhibition Dates: July 8, 2016 – July 28, 2016
Reception: Thursday July 14, 2016, 6:00pm - 8:00pm
Gallery Hours: Tues-Sat 11:00am – 6:00pm
Gallery Location: 530 West 25th St, Chelsea, New York
Event URL:  http://www.agora-gallery.com/ExhibitionAnnouncement/Figuratively_7_8_2016.aspx
Featured Artists:
Figuratively Speaking
Nadia Lassman  |  Grace Dam  |  Orfeo  |  Jerry Anderson  |  Laura Saldarriaga  |  Dino Rinaldi  |  John Newcomb  |  Alexandros Megas  |  Martin Grace  |  Gustavo Gallardo  |  Robert Scurfield  |  Inna Gershov-Slutsky  |  Auriane Margueron
About Agora Gallery
Agora Gallery is a contemporary fine art gallery located in the heart of Chelsea's fine art district in New York. Established in 1984, Agora Gallery specializes in connecting art dealers and collectors with national and international artists. The art gallery's expert consultants are available to assist corporate and private clients in procuring original artwork to meet their organization's specific needs and budget requirements. With a strong online presence and popular online gallery, ARTmine, coupled with the spacious and elegant physical gallery space, the work of our talented artists, who work in diverse media and styles, can receive the attention it deserves. Over the years Agora Gallery has sponsored and catered to special events aimed at fostering social awareness and promoting the use of art to help those in need.

Image: Laura Saldarriaga, Symbiosis, Oil on Canvas, 36''x 36''