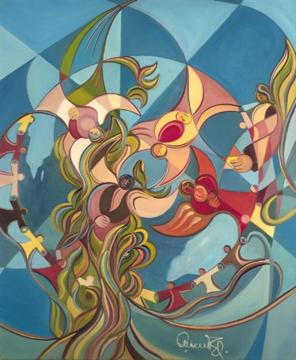 In two exhibitions at Agora Gallery, The Persistence of Form and The Manifestation of Milieu, we are forced to contemplate both our individuality and what ties us to the world around us. In The Persistence of Form, a talented collection of painters and sculptors combine efforts to explore physicality: whether in the form of humans, wildlife, or man-made structures. These artists draw from a variety of styles and backgrounds in order to present their subjects with great care and extraordinary energy. Neighboring in the gallery, the exhibition The Manifestation of Milieu explores what lies beneath and behind the subject. Environments, whether geographical, temporal, or conceptual, fill the walls in staggering explorations of color and energy. Together, the two exhibitions feed off of each other to present a fully formed story about what it means to exist physically within a world, and what it means for a world to exist without physicality.
The exhibitions open on December 1st and will run until December 22nd, 2015. The opening reception will take place Thursday, December 3rd, from 6-8 PM. The exhibition and opening reception are open to the public.
Exhibition Dates: December 1, 2015 – December 22, 2015
Reception: Thursday December 3, 2015, 6:00pm - 8:00pm
Gallery Hours: Tues-Sat 11-6 Gallery
Location: 530 West 25th St, Chelsea, New York
Event URL: http://www.agora-gallery.com/receptionexhibitions/12_3_2015.aspx
Image: Gabriel Landry. Souffle coupe. Oil on Canvas. 24"x20"