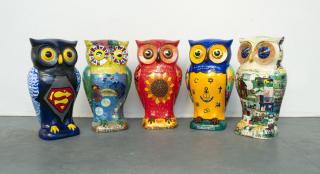 There is a parliament of 26 owlets on display

in gallery 16, the biggest Little Hoot exhibition in Birmingham.



Each of these owlets has been crafted by children from local nursery, primary, secondary and special schools in the city.



Owlets are on display at 18 venues across Birmingham for 10 weeks before being returned to the schools that created them. Download the Little Hoot Trail Map

.



The Little Hoot is the culmination of the city-wide schools education programme of The Big Hoot, that has seen teachers and young people get involved in creative projects that link to both the curriculum and the nationally recognised Arts Award.

This extraordinary showcase has seen over 25,000 children from 114 schools spend the last nine months experimenting with colour, texture and pattern whilst at the same time undertaking fundraising for Birmingham Children's Hospital Charity.

Visit The Big Hoot website

 for more information about the Little Hoot and the Big Hoot. 





The Big Hoot is raising money for Birmingham Children's Hospital. Text HOOT to 70099 to donate £2.