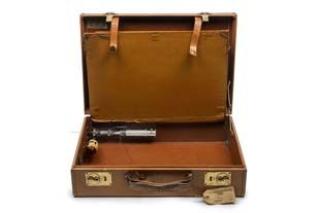 This October – for the first time ever – never-before-seen-objects from the Metropolitan Police's Crime Museum will go on public display in a major new exhibition opening at the Museum of London.

Since its establishment by serving officers in 1875 the Crime Museum (formally known as the 'Black Museum') has previously only been open to police professionals and invited guests. Now, using original evidence from this extraordinary collection, we'll unlock real-life case files to take you on an uneasy journey through some of the UK's most notorious crimes from Dr Crippen to the Krays, the Great Train Robbery to the Millennium Dome diamond heist.

Created with the support of the Metropolitan Police Service and the Mayor's Office for Policing and Crime (MOPAC), the exhibition will consider the changing nature of crime and advances in detection over the last 140 years, as well as the challenges faced in policing the capital, such as terrorism, drugs and rioting.

Giving voice to the real people – victims, perpetrators and police officers – behind these objects we'll explore the impact of crime, personalising what is so often depersonalised. Confronting how, as a society, we respond when normality is shattered and lives are torn apart, we'll also be forced to question our enduring fascination with this hidden collection and its stories.

The Crime Museum Uncovered will be accompanied by a programme of talks and events.Images above, from left to right: The Krays - briefcase with syringe and poison; Counterfeiting and forgery implements; Masks used by the Stratton Brothers, 1905; Objects relating to the murder of Mrs Olive Durand-Deacon by John Haigh (the 'Acid Bath Murderer'), 1949.

All objects courtesy of the Metropolitan Police's Crime Museum, New Scotland Yard. All images © Museum of London.