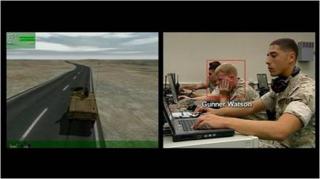 German filmmaker Harun Farocki's four-part video installation Serious Games examines the way we use technology and simulation to prepare American soldiers for missions in the Middle East and Afghanistan and to debrief them after returning from active duty.



Filmed at different army training centers in the U.S., the work presents us with four scenarios where the line between reality and fiction becomes disconcertingly blurred.



By charting the seamless integration of computer-simulated environments into training programs—and the substitution of a virtual environment for the real and the real for the virtual—Farocki forcefully impresses on the viewer our emotional and psychological investment in the make-believe scenario.



Part I: Watson is Down offers a glimpse into a computer-simulated scenario during army training.



Part II: Three Dead is a real-life training exercise in the California desert.



Part III: Immersion showcases the use of virtual technology in treating trauma.



Finally, Part IV: A Sun Without Shadow blends virtual and actual forms of simulation.Serious Games (III), 2009-2010, Harun Farocki, German (born German annexed Czechoslovakia), 1944-2014, three 2-channel video installations, one single-channel video installation; edition of 6, 2 Aps, variable; 44 minutes total running time, Seattle Art Museum, Anne Gerber Fund, Helen and Max Gurvich Fund and General Acquisition Fund, 2012.12.3. © Farun Harocki.