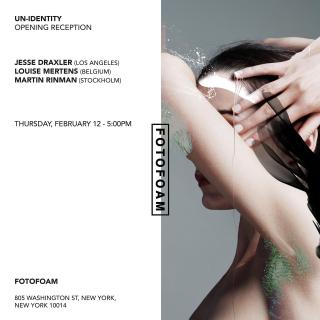 Un-Identity explores the many different sides of our personalities, sides which often leave us thinking about who we are truly. These sides can be very different from one another, and this is the fundamental concept behind Un-Identity.

Un-Identity is a group show featuring artists Jesse Draxler (Los Angeles), Louise Mertens (Antwerp) and Martin Rinman (Stockholm). The show is an exploration of our many selves. Those we show to the world and those we keep internal. Those that are colorful and those that are dark.

The artwork featured in the show is a reflection of these traits. The allure of Mertens digital collage work is starkly contrasted by the fear induced by Draxler's hauntingly beautiful figures. Rinman's futuristic portraits stand prominently between the artwork of his two peers; they are both intriguing and yet mildly tormented.

All the artworks in the show are limited edition, metallic c-prints. The show will be on exhibition at the FotoFoam gallery from Feb 12th thru March 11th. There will be an opening reception at the gallery on the 12th from 5pm - 10pm.