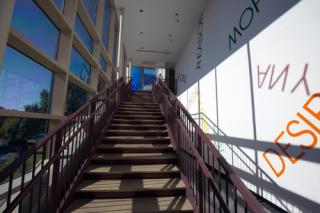 Robert Barry: Diptych: Window-Wallpiece for the Montclair Art Museum





Installation photograph by Peter Jacobs.



Start Date: Sep, 03, 2013End Date: May, 17, 2015





Located in the Blanche and Irving Laurie Foundation Art Stairway, this site-specific installation uses allusive words on the walls and windows to successfully engage the viewer. It was originally installed in 2005-6.



 Robert Barry



Born in 1936, Robert Barry is one of the major protagonists of Conceptual art. When, in 1972, Barry took up residence in Teaneck, he was a young artist and lecturer at Hunter College, where he had studied art. His work has been exhibited extensively in Europe and the United States, including such New York venues as Leo Castelli, Holly Solomon, and Yvon Lambert galleries. He has received many commissions, for the Musée d'Orsay and other institutions, as well as the recently opened ARTLANTIC public art project in Atlantic City, New Jersey.