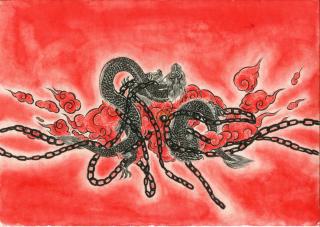 18th December – 22nd March
Preview launch 17th December –  6pm-8.30pm
UK PREMIERE OF "WHAT HAPPENED IN THE YEAR OF THE DRAGON" 
 
CFCCA is extremely excited to be presenting a major solo exhibition of Sun Xun following the recent Asia Triennial Manchester 2014 in Gallery 1. In the gallery Sun Xun will be screening the UK premiere of his animation "What happened in the year of the dragon" along with some of previous animation and video works.
 
Watch a trailer for 'What happened in the year of the dragon' here: http://vimeo.com/93488973
 
CFCCA will also premier a selection of Sun Xun's past works - such as 'Coal Spell', inspired by the old Yuan RMB note and an account of the rise and fall of Fuxin, an old industrial coal city located in northeastern China. As a result of the experiences and nostalgia of his upbringing, the echoes of Manchester in its industrial heyday of the 19th century are immediately palpable. What can also be felt is how pertinent and current some of these contemporary issues are at play today, both in China and within the UK.
 
The selection of Films includes:
- Coal Spell 2008
- Chinese Words (2005)
- Requiem (2007)
- Shock of Time (2006)
-Magician Party and Dead Crow (2013)
-What happened in the year of the dragon (2014)
 
About the Artist
 
Sun Xun, one of the youngest and most prolific video artists today is recognised for black and white animation films depicting time and world history while revealing a critical and political awareness of China. Following a successful show of his work at the Hayward Gallery Project Space in January 2014, CFCCA are proud to provide a much anticipated in-depth look at both earlier works and newly commissioned pieces which will have their UK premier this December.
 
Showing for the first time in the UK, 'What happened in the year of the dragon' was finished in 2014 and was created exclusively for an exhibition entitled 'Brave New World', staged at Edouard Malingue gallery earlier this year. This particular work acts as a direct contemporary response to Aldous Huxley's 1932 seminal novel of the same title.