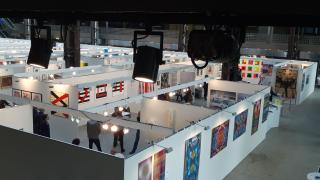 ART INTERNATIONAL ZURICH 2020
22nd Contemporary Art Fair
Puls 5, Zurich / Switzerland
October 01-04, 2020
Welcome to the 22nd Art Fair Zurich!
ART INTERNATIONAL ZURICH is a forum with the aim of making contemporary art accessible to a broad public. This art fair presents a wide range of artistic concepts in an exhibition dedicated entirely to dialogue. An ideal place for communication and networking!
At ART INTERNATIONAL ZURICH you can see and acquire breath-taking works and establish exciting connections. Like in previous years, we expect exhibitors and visitors from Switzerland and all over the world.
ART INTERNATIONAL ZURICH is an event not to be missed!


Edition 2019.
The 21st international art fair ART INTERNATIONAL ZURICH was able to further consolidate its reputation as a top-class art fair in Zurich. In particular, the international orientation, which is unique in the trade fair landscape, ensures fascination and a lasting impression. Works of art from the fields of painting, graphics, sculpture and photography are exhibited here.
Already at the vernissage, numerous visitors interested in art gathered for an aperitif and a tour of the exhibition stands. At almost all stands, it was possible to talk personally to the artists present about their work. Until the last day of the fair, the exhibition hall was crowded and bustling with business.
The majority of exhibitors at ART INTERNATIONAL ZURICH were also satisfied with the fair. Many exhibitors were able to record lucrative sales and orders, but also emphasized the high value of the contacts made here. The exhibition continues to score highly as a public success in Zurich.