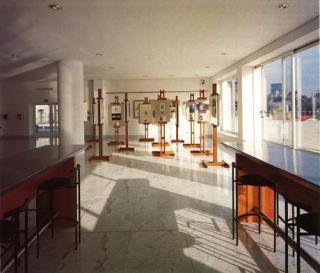 The Design Museum offered a unique arena for students, practitioners, industry and the general public to come together to both celebrate and expand the field. Thirty years on, it continues to promote design in all its forms, striving to make the impact of design visible to all.



The Design Museum was established by Sir Terence Conran to promote awareness of design in education, industry, commerce and culture.



This ambition first took shape as a series of temporary exhibitions in the basement of the V&A Museum, named the Boilerhouse Project, and later in the establishment of the Design Museum at Shad Thames. The ambition was to "explain why and how consumer objects work and look the way they do, and how design contributes to the quality of our lives."



The Design Museum's first home was a sleek, white, re-purposed warehouse at Butler's Wharf on the south bank of the Thames, near Tower Bridge. In 2016 the Design Museum moved to its current site in Holland Park, Kensington.



This free archival display relates to the museum's opening at its former home in Shad Thames.