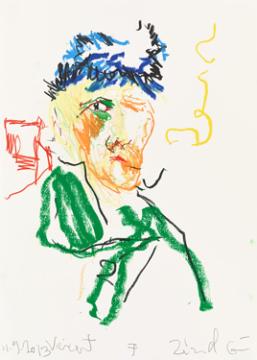 Content24 May – 8 September 2019

Born in Châtellerault (France) in 1976, Guillaume Bruère always draws at great speed, creating multiple works of energetically vigorous draughtsmanship in a short space of time. Portraits are acentral element of his output.

Bruère often works in front of original Old Masters in museum collections, including the Louvre, the Alte Pinakothek in Munich and the Gemäldegalerie in Berlin, and in recent years has been a frequent visitor to the Kunsthaus Zürich. While here he has produced 160 drawings, no less than 38 of which are based on the self-portrait by van Gogh. Bruère has also visited the Schauspielhaus Zürich on a number of occasions and sketched during rehearsals. The exhibition presents for the first time a selection from these two groups of Zurich-themed works.