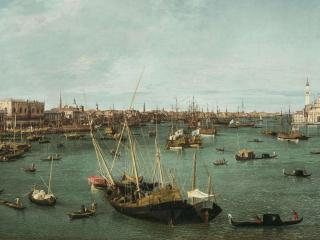 He went everywhere, knew everyone, and wrote it all down.

Although his name has become synonymous with womanizer or scoundrel, Giacomo Casanova (1725–1798) was regarded by his contemporaries as one of the most magnetic personalities of the day and an international man of letters. He traveled widely throughout the continent, mingling with royalty, popes, and intellectuals such as Voltaire and Benjamin Franklin along the way. As author of one of the most detailed and wittiest autobiographies known to survive, Casanova offers a glimpse into daily life 250 years ago.

The exhibition combines more than 275 paintings, sculptures, works on paper, decorative arts, furniture, costumes, and musical instruments in a lavish display of the visual riches of Casanova's world. Structured by the chronology and geography of his life, the exhibition addresses such themes as travel, the intersection of courtship and power, theatricality and identity, and the pleasures of fine dining and lively conversation. Among the masterpieces on view are a series of monumental paintings by François Boucher, reunited here for the first time in decades, and Canaletto's Bacino di San Marco, Venice (1738), shown above. Three tableaux—taking place in Venice, Paris, and London at different times of day—feature mannequins in authentic costumes amid period settings, bringing Casanova's world to life.

"Casanova's Europe: Art, Pleasure, and Power in the 18th Century" reveals a refined and visually seductive culture on the cusp of modernity—one characterized by pleasure seeking, movement across boundaries, and self-invention. Casanova himself inhabited many roles—entrepreneur, darling of royals, spy, and translator of the Iliad. With no legitimate claim to nobility or consistent wealth, Casanova was essentially powerless, but through his intelligence and charm, he successfully placed himself near people of power throughout the courts of Europe. Here, he is our guide to the splendor and sophistication of mid-18th-century Europe. The exhibition is co-organized by the MFA, the Kimbell Art Museum, and the Fine Arts Museums of San Francisco, and is accompanied by an illustrated catalogue produced by MFA Publications.