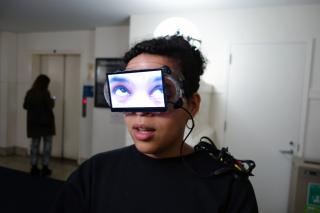 Sondra Perry questions constructions of representation through technology. Using video and computer-based media installations, Perry proposes different ways of seeing. For her exhibition at SAM as the winner of SAM's 2017 Gwendolyn Knight and Jacob Lawrence Prize, Perry will present an immersive video and sculpture installation.



The prize includes a $10,000 award to further Sondra Perry's artistic practice and a solo exhibition in SAM's Gwendolyn Knight & Jacob Lawrence Gallery.



Sondra Perry: Eclogue for [in]HABITABILITY is curated by Sandra Jackson-Dumont, Frederick P. and Sandra P. Rose Chairman of Education at the Metropolitan Museum of Art and SAM's former Deputy Director for Education and Public Programs/Adjunct Curator of Modern and Contemporary Art.

SAM's Gwendolyn Knight | Jacob Lawrence Prize is awarded bi-annually to an early career black artist—an individual who has been producing mature work for less than 10 years.



Sondra Perry is a recipient of the Seattle Art Museum's Gwendolyn Knight | Jacob Lawrence Prize. Funding for the prize and exhibition is provided by the Gwendolyn Knight Lawrence and Jacob Lawrence Endowment and generous support from the Jacob and Gwendolyn Lawrence Foundation. The exhibition is organized by the Seattle Art Museum. Additional support provided by contributors to the SAM Fund.Image: Young Women Sitting and Standing and Talking and Stuff (No, No, No), April 21, 2015, Sondra Perry, performance at the Miriam & Ira D. Wallach Art Gallery in NYC with performers Joiri Minaya, Victoria Udondian, and Ilana Harris-Babou.