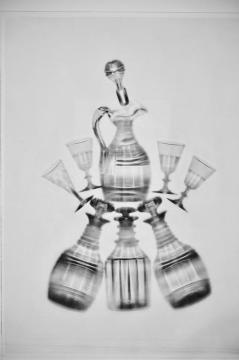 This is a free exhibition, please note that there is a charge for Mat Collishaw's Virtual Reality installation. Thresholds is a touring exhibition being shown at several institutions historically associated with William Henry Fox Talbot or with significant collections of his work.

Thresholds features a selection of historical material drawn from the King Edward's Foundation Archive, and contemporary artworks by Cornelia Parker and Ravi Deepres curated by Pete James. Mat Collishaw's Thresholds

virtual reality installation should be pre-booked on line, as it is necessary to pay for this and to book a time slot.

The archival material loaned from King Edward's Foundation Archive includes original architectural drawings of King Edwards School by Charles Barry c1833; lithographs and engravings of the interior and exterior of the school; rare publication such as the original catalogue for the 1839 exhibition, and projections of a series of stereoscopic slides before it was demolished. These stereoscopic views were the equivalent of virtual reality in the C19th and early C20th.

The contemporary artworks on show include Cornelia Parker's Fox Talbot's Articles of Glass (2016) a series of 9 Polymer Photogravures of glassware from Talbot's home, Lacock Abbey, which he famously photographed in 1844. Inspired by Fox Talbot's first photographic images, Cornelia Parker combined two of Fox Talbot's techniques, sun prints and photogravure, to make a new hybrid form of print. Her versions of Fox Talbot's Articles of Glass have been made by exposing the actual subjects of his original image onto photogravure plates, using UV light to cast 21st century shadows through the 19th century glass. These works are shown with the generous support of the artist and Alan Cristea Gallery.

The exhibtion also includes Obscura, a film work by Ravi Deepres and Michael Clifford (2012). A camera obscura (from the Latin camera meaning 'room' or 'chamber' and obscura, meaning 'dark') was an optical device used as an aid to drawing by artists including Leonardo da Vinci, Vermeer, and Canaletto. Obscura is a collaboration between award-winning film and photographic artist Ravi Deepres and BAFTA-winning director Michael. B. Clifford. Starting with the notion that a classical painting is a chosen point in a narrative, they explore what happens before this point, as well as the still moment itself, and its direct relationship to the viewer.

Thresholds is complimented by another exhibition, A White House in Paradise Street, an exhibition by Jo Gane, Pete James, and Leon Trimble, which also draws inspiration from the early history of photography in Birmingham, runs simultaneously at Birmingham Open Media. Visitors can find one of the cameras from this project in the entrance foyer to Water Hall.

These two exhibitions are complemented by a programme of public workshops, talks and events presented as Developed in Birmingham.

Thresholds is curated by Pete James, FRPS ASICI, Honorary Research Fellow, Digital Humanities, University of Birmingham.

This exhibition is on in the Waterhall at Birmingham Museum and Art Gallery on Thursdays, Fridays and weekends only.