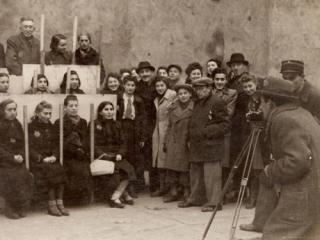 On view in the Linde Family Wing for Contemporary Art from March 25 to July 30, 2017, "Memory Unearthed" offers an extraordinarily rare glimpse of life inside the Lodz Ghetto during its brief existence from 1940 to 1944, through the lens of Polish Jewish photojournalist Henryk Ross (1910–1991).

Situated in the heart of Poland, the city of Lodz (pronounced Wudz in Polish; Lodzh in Yiddish; Ludz in English) was occupied by German forces in 1939. The Germans consolidated the area's Jewish population—more than 100,000 people—into a poor industrial section of the city, sealing it off from the outside world, making the Lodz Ghetto second in Jewish population only to the Warsaw Ghetto in German-occupied Europe.

Henryk Ross was among those incarcerated in 1940 and he was put to work as a bureaucratic photographer by the Jewish Administration's Statistics department. Ross took official photographs for Jewish identification cards, as well as propaganda images that promoted the ghetto's efficiency. Unofficially—and at great risk—Ross documented the complex realities of life under Nazi rule, from the relative privileges enjoyed by the elites to the deportation of thousands to death camps at Chelmno and Auschwitz. Hoping to preserve a historical record, Ross buried his negatives in 1944. He returned for them after Lodz's liberation, discovering that more than half of the original 6,000 survived.

"Memory Unearthed," organized by the Art Gallery of Ontario, presents more than 200 of Ross's powerful photographs, comprising a moving, intimate visual record of the Holocaust. The images are accompanied by artifacts, including Ross's own identity card, ghetto notices, and footage from the 1961 trial of Nazi war criminal Adolph Eichmann, where Ross's photographs were submitted as evidence. An album of contact prints, handcrafted by Ross and shown in its entirety as the centerpiece of the exhibition, serves as a summation of his memories, capturing his personal narrative.

Above: Lodz ghetto: Henryk Ross photographing for identification cards, Jewish Administration, Department of Statistics, 1940. Gelatin silver print. Courtesy the Art Gallery of Ontario. Gift from Archive of Modern Conflict, 2007. © Art Gallery of Ontario.