User account
From Wiki
To use all functions on TheArtKey.com, you need to have a (free) personal user account. When you establish a personal user account, your individual profile is established as well. You can specify which part of your profile (data) is public or private. As an artist, you might want to have as much data public as possible: Information about yourself, your style, your background, your artworks, your exhibitions, maybe even a blog. If you need your personal user account only to manage your company account, you might want to keep all your personal information private. You can can change your privacy settings at any time. A personal user account is necessary to manage one (or many) company profiles.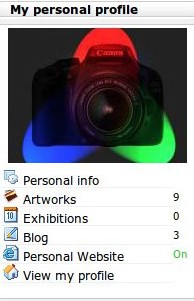 Establishing a personal user account
To establish a personal user account, go to [Establish personal user account]. Just enter your real name, a valid email address and a password. Then select your country. After that, you will receive an email with a link. Click this link to confirm that you really want to establish a personal user account on TheArtKey.com and to activate your account. That's it! The procedure to establish a personal user account takes only 1-2 min.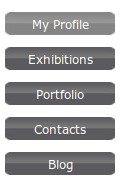 Personal info
Once your personal user account is established, just log into your account and fill in more information about you to publish in your personal user profile.
Personal data
Add your name, the the City where you live, your date of birth, etc. Upload your profile photo to personalize your profile. For each data field, you may decide if this information shall be visible to others.
Please note: If you just use your personal user account to manage one (or more) company profiles, you do not need to fill in all this information. If you wish not to be found in a database search, you may even hide your personal user account. Just set the switch "Personal user profile visible to others" to NO. On the contrary, if you are an artist or if you want to actively participate in the TheArtKey.com community, we suggest that you upload as much information as possible. This makes your personal user profile more interesting. We even suggest that you start your own blog on TheArtKey.com!
About me, About my work, About art
Write what you think others should know about you, e.g. your curriculum vitae, what you think about art, etc. Artists should write about their work, their style, why they create artworks, what is special about it, etc. Collectors of art, art lovers or people who work with arts (e.g. in an art gallery or art museum) might write about their interest in art, the type of artworks they like most, etc.
Privacy
In the privacy section, you can manage what other people are allowed to see and what not. All changes will be active instantly.
Contact
TheArtKey.com has an own internal message system to communicate. This allow you to easily communicate with all members of TheArtKey.com without having to show your (private) email. This is a very secure way for communication and without any risk to attract spam messages in your private email account.
Artworks
You can upload your works and organize them in albums. When you upload an artwork, make sure that you add some additional text information. First of all, add some tags that are relevant for this specific artwork. Keep in mind that others will use tags in their newsfeed. Without tags, your artwork will not show up in those newsfeeds! Besides, add the date of creation, the style, maybe the reason why you created this artwork, etc. The more information you add, the more likely your artwork is found through a keyword search on TheArtKey.com. Besides, we also submit this information to the big search engines so that you increase your chance of being found there, too.
Edit
Edit artworks is possible at any time.
Delete
Deleting artworks is possible at any time. Here is help for that.
Exhibitions
You can upload user events. All these events will be shown in your profile as well as in the exhibition calendar of TheArtKey.com.
Blog
By posting your own blog, you can publish information that you consider interesting for art interested people. You may include various media inside your blog.
Personal website
A powerful feature - namely for artists - is the possibility to open your (free) personal website on TheArtKey. You can choose from a number of designs. The editing of your personal website is done through your personal user account. By updating your personal profile on TheArtKey.com, you automatically update your personal website!
Web Domain
Your personal website can be reached on the internet by clicking http://YOUR_NAME.theartkey.com. If you like, you could also establish your on domain name (e.g. www.YOUR_NAME.com) and establish domain forwarding. This way, you have a professionally looking personal website without the hassle of any web design software or looking for web hosting companies. And on top of that all: IT'S FREE!
Email address
We also open an email address for your website with the domain that you have chosen. All messages will be redirected to the email address which you useed to open your personal user account.
Template (Design)
You may choose from some already defined web-designs for your personal website.
Home Page
Here you define the entry page of your personal website. This is the page that opens first when someone enters your web domain name.
Website Name
This is the title of your website.
Title of the contact page of your personal website
You can choose the title for the contact page of your personal website.
View my profile
If you don't deactivate this option in the privacy settings, your personal profile is displayed for all users. To check what other users see when they visit your personal profile, just click here.
Links