TheArtKey.com
From Wiki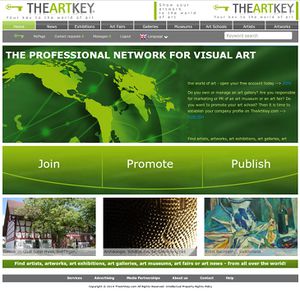 TheArtKey.com is a global information and communication platform for individuals and companies / organisations working in the field of visual art or interested in visual art. Individuals are artists, art students, art collectors, art lovers and other people working in the field of visual art. Companies or organisations are art galleries, art museums, art schools, auction houses, art fairs, and so on.
Visitors of [TheArtKey] can search for information about current or upcoming art events, search for artists, art galleries, art museums, art schools, art fairs or auction houses.
Members of TheArtKey.com (individuals or companies/organizations) can present themselves with a comprehensive profile about their activities, their artworks, exhibitions, etc. Individuals such as artists can post blogs, companies such as art galleries can post news or link with profiles of artists they represent.

To use the many functionalities on TheArtKey.com, there are various memberships available:
Individuals just open a (free) personal user account which - at the same time - also constitutes a (free) individual membership on TheArtKey.com. The personal user account also serves as the individual profile, e.g. for an artist profile. To learn more about the benefits of an individual profile (namely an artist profile), please click here.
Companies can establish a BASIC, PREMIUM or DELUXE membership which is the basis for a (respective) company profile. To learn more about these company memberships, please click here. To manage a company profile, a (free) personal user account is necessary. A company profile can also be managed by more than one person. All editors just need an own personal user account.

If you are looking for anything in the global art market, just search for it on TheArtKey.com. The powerful database delivers precise search results. If you are a provider of art (artist, art gallery, etc.) and want to present your work to potential clients, open your own profile on TheArtKey.com. With your mailings, you can only contact the people on your mailing list. Your website will mainly be visited by people who already know you or your company or organisation. But hundred thousands of art interested people are visiting TheArtKey.com each month, making it the ideal communication channel for your activities. A BASIC profile is free of charge!
To explore all functions, just establish your free personal user account.

Links