Galleries
From Wiki
Gallery profile
Hundred thousands of art interested people are visiting TheArtKey.com every month, thousands of individual members are tagging interesting profiles of companies and individuals and watch their activities. Our powerful search engine and our comprehensive database with many links from artists to galleries to art fairs and vice-versa, the global exhibition calendar as well as the news section all help you to guide visitors to your profile. Besides, we are using smart technologies to continuously feed the content of profiles on TheArtKey.com to the major search engines. This means, the more information about your company and your activities are published on TheArtKey.com, the higher is the chance that you will be found by people looking for specific keywords that match your information!
Searching for a gallery
When you enter the Gallery section of TheArtKey.com, the galleries are displayed in random mode. You may use the "keyword" search to find a particular gallery, or you select the first character of the gallery's name. Besides, you can select the country or the city where the gallery is located.
Filters
Filter options allow a faster search for galleries. With just one click, you can select galleries in your country or your city.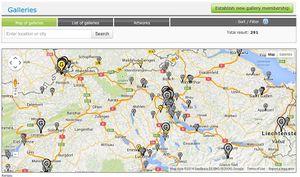 Sorting
This option allows to sort galleries for a more structured view. By default, the sort option is set to "random".
Links