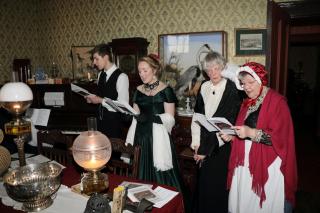 Museum's Christmas Past is the best Christmas Present you can give 
Chestnuts roasting in a blacksmith's forge, yuletide carols around the fire, tiny tots with their eyes all aglow?  There's one place in MK you should go!
Yes, the season's most magical Christmas experience returns to Milton Keynes Museum over three weekends in December – when the clock is turned back to  recapture the sparkle, fun and mystery of a true Victorian family Christmas.
Follow the twinkling lights through the grounds to enjoy.
From the moment you are greeted by our butler with a tray of mulled wine or squash, through to meeting Santa in the cosy glow of his toy workshop, you'll feel the Christmas spirit in every fibre.
Carols by candlelight in the parlour
Roaring fires to enjoy your mulled wine around, while the children play puff billiards
Christmas crafts in the old schoolroom
Making hot buttered toast the old-fashioned way in the farmhouse kitchen
HM Queen Victoria in attendance on some days
Freshly roasted chestnuts in the fully working blacksmith's forge
Teddy bears getting ready for Christmas in their own toy workshop
Homemade cakes and mince pies, plus hot chocolate in the Granary café
And of course Santa and his elves. waiting to hear wether young visitors have been good - and give them a special gift to take away.
This is one Christmas event you won't want to miss.
Dates and Times of Opening 2016
Week 1 – Fri 2nd, Sat 3rd, Sun 4th Dec
Week 2 – Fri 9th, Sat 10th, Sun 11th Dec
Week 3 – Fri 16th, Sat 17th, Sun 18th Dec
Fridays – 4.30 pm till 7 pm
Saturdays and Sundays – 1.30pm till 6pm