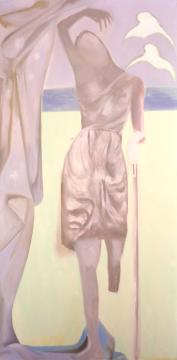 Dormiveglia features nine large-scale oil paintings conceived in 1998 and other works by Francesco Clemente, a leading figure of the Neo- Expressionist movement. Standing, elongated, and statuesque forms of muted, pale colors suggest nebulous half-conscious states between wakefulness and sleep–near dream-like moments of reality and existence, a subject Clemente has explored throughout his career.

These enormous paintings relate to Clemente's own heritage of Italian fresco painting, while realizing one of his ongoing objectives: "My goal is to collect images and references from these traditions and connect them with the emotions from the present-day, and common experiences."

Influenced by his upbringing in Southern Italy, years living and working in India, and his later engagement with the 1980s New York art scene, Clemente's work is equally fragmented across place, time, and states of consciousness, and his subjects shift fluidly between non-western and religious iconography, mythological characters, modernist symbols and representations of animal and human figures. The body – and the female form in particular– has become an integral part of the artist's vocabulary and approach to exploring transitory states.