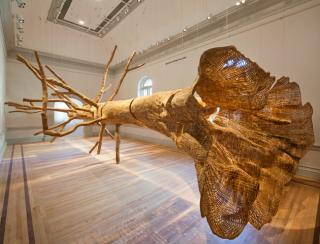 John Grade's large-scale sculpture, Middle Fork, echoes the contours of a 140-year-old Western Hemlock tree located in the Cascade Mountains east of Seattle. Beginning by making a full plaster cast of the living tree, the artist and a cadre of volunteers used this mold to recreate the tree's form out of thousands of pieces of reclaimed old-growth cedar. Begun in 2014 and currently 40-feet long, Grade will more than double the length of the work for its installation in the Brotman Forum.



About the Artist

Grade's work is exhibited internationally in museums, galleries, and outdoors in urban spaces and nature. His projects are designed to change over time and often involve collaboration with large groups of people. He lives and works in Seattle.



Would you like to volunteer to help complete the sculpture?

Volunteers are invited to work in Grade's studio through December 2016 to help construct the final 100 foot-long sculpture. Please contact Lauren at the artist's studio to set up a time (minimum requirement 3-4 hours per session): volunteer@johngrade.comImage: Middle Fork, 2016, John Grade, American, b. 1970, wood, 30 x 28 x 105 ft., Collection of the artist, Photo: Ron Blunt.