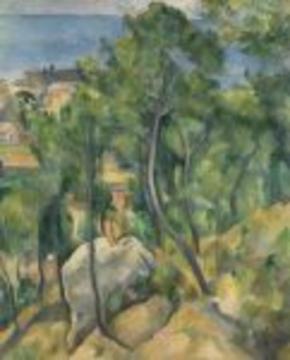 Es wird einer der Ausstellungshöhepunkte im Herbst dieses Jahres sein: Die Staatliche Kunsthalle Karlsruhe präsentiert den Künstler Paul Cézanne (1839–1906) in einer großen Sonderausstellung des Landes Baden-Württemberg.
Paul Cézanne hat als Maler, Zeichner und Aquarellist ein überaus facettenreiches Werk geschaffen. Aufgrund seiner Tendenz zur Abstraktion der Bildelemente gilt er als wichtiger Wegbereiter der Moderne. Cézanne selbst hatte jedoch den Anspruch, die Malerei auf Grundlage der klassischen Kunst zu erneuern. Die Ausstellung der Kunsthalle wirft einen neuen Blick auf Cézannes lichte Landschaften, seine Badenden, Porträts und Stillleben.
Cézanne als Geheimnissuchender, der das Wesen der Welt einzufangen versucht – es ist ein anderer Cézanne, als der Künstler, der bisher in retrospektiven Ausstellungen erlebt werden konnte. Erstmals macht eine Cézanne-Ausstellung dessen Werk als eine Einheit erfahrbar. Statt der klassischen chronologischen oder nach Bildgattungen geordneten Werkbetrachtung sind hier Gemälde verschiedener Gattungen und Schaffensphasen nebeneinander zu sehen. Wie hängt die Dramatik der frühen Figurenbilder mit der Erhabenheit und Dauerhaftigkeit seiner Stillleben zusammen?
Häufig wird angenommen, Cézanne habe im Spätwerk mit seinen künstlerischen Anfängen gebrochen. In der Ausstellung werden die inneren Zusammenhänge der verschiedenen Phasen und Entwicklungen aufgezeigt. Daneben wird auch deutlich, welche bedeutende Rolle der Kopie im Schaffen von Cézanne zukam. Der Künstler war sehr traditionsbezogen: Intensiv wie kaum ein zweiter seiner Generation kopierte er Alte Meister wie Zeitgenossen, um mit diesen schöpferisch umzugehen. Die den Vorbildern entnommenen Figuren und Details aus größeren Kompositionen leben in anderer, abgewandelter Form in seinen Gemälden weiter.
Die Ausstellung macht auch Doppeldeutigkeiten im Werk des Franzosen sichtbar. Er verflüssigte feste Strukturen und materialisiert weich fließende Formen – besonders deutlich wird dies beispielsweise an der Darstellung einer Jacke auf einem Hocker, die an die Montagne Sainte-Victoire erinnert.
After the success of the 2014/15 exhibition Degas: Classicism and Experimentation, thisexhibition takes a look at the work of his most important contemporary, Paul Cézanne(1839–1906). Due to his tendency to abstract the elements of his pictures, Cézannecounts as one of the forerunners of modernist painting. This exhibition expands thisapproach, interpreting Cézanne's art from a position of productive tension, in whichinnovative pictorial processes become just as powerful as the creative appropriation ofimages from art history. The Karlsruhe exhibition is therefore consciously not arrangedchronologically as a retrospective, but rather as a themed exhibition, which opens up anew perspective onto this artist's seemingly so well-known oeuvre.