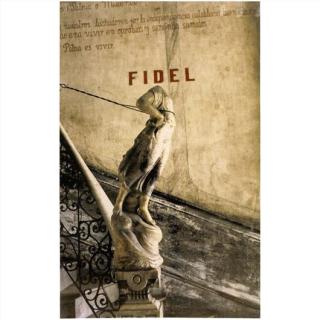 Wild Noise/Ruido Salvaje is an exploration of contemporary Cuban art from the 1970s to the present that looks at how Cuban artists both on the island and abroad have grappled with issues of identity, community, and the urban experience. Bringing together over 60 works by more than 30 artists from the Bronx Museum collection and other U.S. institutions and private collections, the exhibition will feature many artworks that will be publicly exhibited for the first time, including a newly commissioned sculpture and performance by Humberto Díaz as the culmination of a three-month residency at the Bronx Museum, and works by Belkis Ayón, Abel Barroso, José Bedia,  Alejandro Campins, Los Carpinteros, Carlos Garaicoa, Kcho, Glenda León, Ana Mendieta, Diana Fonseca Quiñones, Eduardo Ponjuán, Wilfredo Prieto, Sandra Ramos, Esterio Segura, Meira Marrero and José Angel Toirac, and others.

 Wild Noise/Ruido Salvaje is organized by the Bronx Museum and by Corina Matamoros and Aylet Ojeda Jequín, Curators of Contemporary Cuban Art at El Museo Nacional de Bellas Artes (MNBA) in Havana, as part of a multi-year collaboration between the Bronx Museum and the MNBA to foster artistic and cultural exchange between Cuba and the United States. The partnership was launched in 2015 with Wild Noise: Artwork from The Bronx Museum of the Arts and El Museo Nacional de Bellas Artes (MNBA), a groundbreaking exhibition of works from the Bronx Museum's collection presented at MNBA in Havana.

 Wild Noise/Ruido Salvaje is supported by the Ford Foundation and the Robert Sterling Clark Foundation, with additional funding from Bespoke Travel, Blake Grossman & Michelle Richards, Bronx-Lebanon Hospital Center, Charina Endowment Fund, The Evelyn Toll Family Foundation, Fundación Amistad, Laura Blanco and Robert F. Shainheit, The Liman Foundation, May and Samuel Rudin Family Foundation, Milton and Sally Avery Arts Foundation, Pierre and Tana Matisse Foundation, RLA Conservation of Art & Architecture, The Schley Family Charitable Fund, The Shelley & Donald Rubin Foundation, Terra Foundation for American Art, Toby Devan Lewis, and individuals, with special thanks to Lindsey Frank, Esq., of Rabinowitz, Boudin, Standard, Krinsky & Lieberman, P.C.