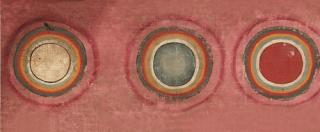 Interweaving contemporary sonic experiences with historical art from the collection, this exhibition employs sound art to deepen our understanding of Tibetan Buddhist philosophy and practice. Through the introduction of sound, this exhibition will expand awareness beyond conventional object-focused narratives to a wide variety of embodied encounters. Designed within an overarching framework of Himalayan history and art, installations will not only be audible, but also will engage visitors with objects in the collection in philosophical, bodily, and social realms of knowledge and experience.
Curated by Risha Lee
This exhibition is made possible through the generosity of HARMAN. Additional support provided by contributors to the 2017 Exhibitions Fund.